Have you ever imagined a Wedding with Natural Volcanic Backdrop? Well, Chino Vaflor and Kat Bautista Palomar a Young Filipino couple said "I Do" just as the volcano Taal erupted. The Wedding, was captured by Randolf Evan Photography, who shared the surreal photos on social media.
The Volcanic backdrop gives this wedding a picture perfect frame to cherish for the rest of their lives. As published on the leading news channels, the wedding venue was situated just a short distance away from the Taal volcano which suddenly started spewing ash and smoke on Sunday. That's the day of the wedding. "We noticed white smoke coming out of Taal during preparations around 2 pm and from then on we knew something unusual was already going to happen," Randolf Evan.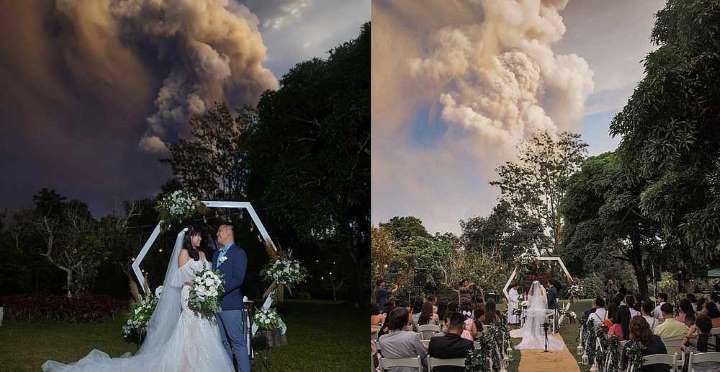 However, the Couple decided to carry on with the wedding plans & have the Volcanic backdrop add a magical touch to the fairytale wedding. Additionally, the Lighting in the smoke filled clouds added natural light & sound show to enthral the gutsy guest's.
Would you dare to have your big day in close proximity of an erupting volcano? Well, this couple certainly did. Equally, taking the internet by storm with some splendid volcanic wedding backdrops.
Check the splendid pics and say to your loved one
" marry me , On the backdrop of an erupting Volcano"