Have you Registered for Goa's Makeup Masterclass happening this weekend ?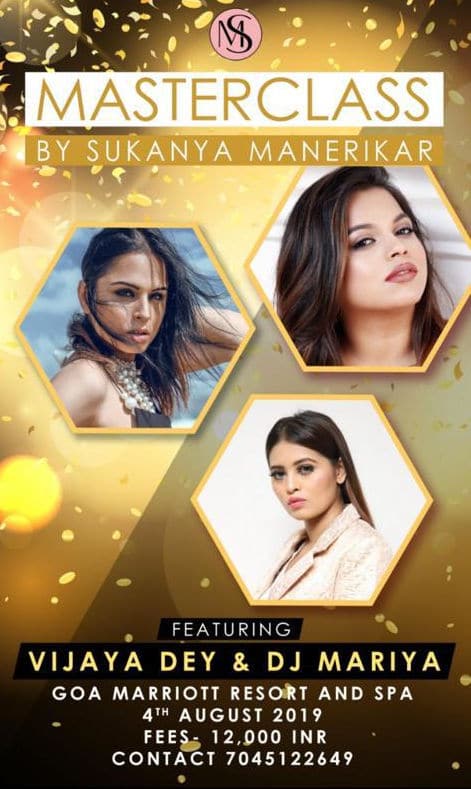 Introducing Sukanya Manerikar.A Goan, Passionate Makeup Artists, Hairstylist and one of the very few Goan Beauty Bloggers. These are just a few traits Sukanya brings forth amidst the several others.
Today Goa can boast to have one of the Best Makeup artists in the industry that has worked with Top celebrities in the Bollywood and many celebrity weddings to the list. She has obtained a Degree personally under Marvie Ann Beck Studio in Mumbai, Sukanya has specialized in all areas of Makeup including Fashion, Photography, Special events and Bridal makeup thus building up a strong foundation in her work. 
If you're a novice at makeup, whose passion is all things made up. we've got a surprise which will rock you off. Learn advanced techniques in the field of makeup from the globally acclaimed makeup artist herself, Sukanya Manerkar. Known by her Instagram handle, @makeoversbysukanya, She has a following of nearly 48.7K Followers which makes her work speaks for her. she is not just dominating the field, but also is an expert at what she does. 
Her personal motto has always been teaching and sharing her makeup skills. Always arriving with a bright smile and eager eyes, she will charm you into learning the skills you love the most. Lucky for  all you passionate makeup artists , looking to add that touch of glamour and shine in your work . The Masterclass is a one day workshop to be held at the Goa Marriott Resorts and Spa on the 4th of August, 2019. 
Sukanya herself shall be sharing valuable techniques and skills at this masterclass. Makeup Artist who wish to advance their skills to an international level with advanced makeup techniques are advised to make the best use of this opportunity .This is the one of a kind of workshop to be conducted in Goa. 
Whats lined up in the Masterclass ?
In this masterclass Sukanya will teach 2 International Makeup looks on two major top models in the industry, Vijaya Dey, who has been in India's Project Runway "MTV Making the Cut" and top fashion icon in the DJ Industry DJ Mariya. 
You will learn:
2 International Looks

2 Soft Natural Looks

Flawless Base

Perfect Eyebrows

Perfect Lips

Perfect Graphic Eyeliner

Highlighting and Contouring

Latest Trends

Product Knowledge

Advanced Makeup Techniques

Marketing Techniques
After the workshop there will be a 2 hour practice interactive session with Sukanya herself and a professional mini photoshoot for all attending participants . What's more is each participant gets a personalized goodie bag to take home. A certificate of completion of the workshop will be handed over at the end of the session.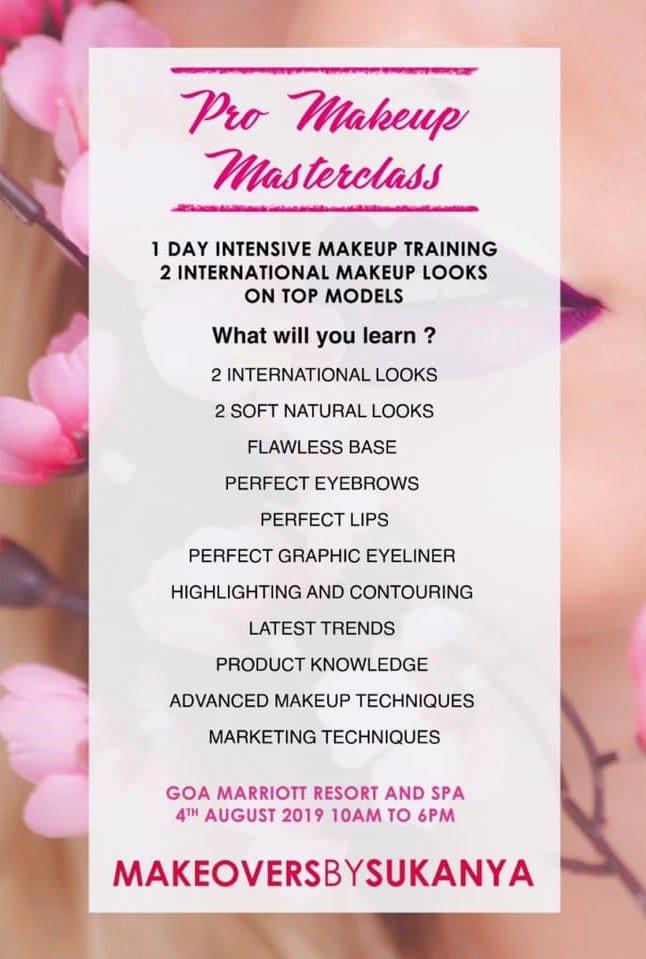 The seats are filling fast. Book your seats at +91-7045122649. 
For more information visit Sukanya's website http://www.makeoversbysukanya.com or visit her Instagram handle @makeoversbysukanya. 
We hope you make the most of this opportunity in gaining Knowledge from the Best in the Industry … and join in the Masterclass.