Goa's Best Wedding Photography Locations
Looking for Goa's Best Wedding Photography Locations ? Besides its pristine beaches , Goa undoubtedly is bestowed with natural beauty. The scenic nature , the Perfect tropical weather coupled with beautiful portuguese architecture . The architectural work on the  Goan Temples, Churches and old houses brings in a new dimension to the wedding photograohy . Goa by large is  known for the spectacular white sandy beaches . In fact, the Goan beaches  have thier own charm in making you fall in love. These characteristics rend Goa to have some of the Best Wedding Photography Locations.
Be it a Wedding Photography, Pre-Wedding Photo-shoots or a Post Wedding Photography. We always seem to be looking for Scenic and Beautiful Photography Locations in Goa.   will make your Wedding Photography one of the most appealing and unique.
Well if you're looking for a location To have the Best Wedding Photography in Goa, I'll give you Some.
1) Beaches in Goa (Sinquerim , Cabo de rama )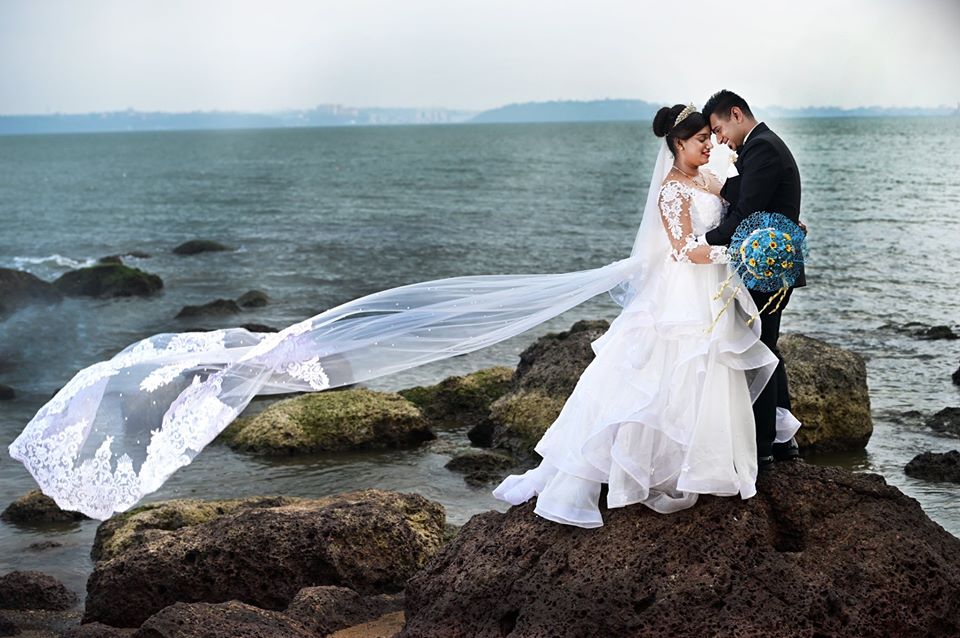 Whether a tranquil haven of serenity or a jam-packed platform for sun worshippers, the beach is a perfect location for all genres of photography. The beaches in Goa offer a number of wonderful opportunities as they are places of natural beauty, color and interesting light.
The splash of the waves and the sand that shines in sunlight and not forgetting the scenic rocks.. all these cool and beautiful characteristic of the Beaches makes them the Goa's Best Wedding Photography Location.
Wine , Dine & Dance , capture these magicial moments as the sun goes down.
2) Green Scenic Backgrounds (Monte Chapel , Three kings Cansaulim hill )
Goa has number of other scenic options. The Greenery of the fields by a water stream give a perfect short with the colors of nature being blend perfectly well in your capture. The exquisite lanes with lush Palm grove on its either sides witness the true beauty of nature. These simple and narrow roads can give a sense having the natures blend in your Photography.
Goa has the most beautiful landscapes that make you wonder if time ever laid its hands on her. These landscapes give a beautiful touch to your Wedding Photography, and thus the Greeny Scenic Backgrounds become Goa's Favorite Wedding Photography Locations.
3) Architectural Works in Goa (Panjim Church , Kavlem temple )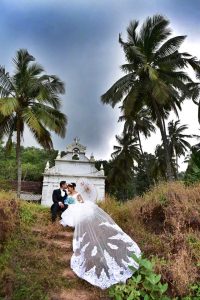 The Beautiful architectural works like the Churches, Temples, Bridges and Goa's tryst with heritage and history cannot be ignored. The churches in Goa display Portuguese architecture which is breathtaking and will add an historical image to your captures. Not to mention the Goan Temples with serene ambiance undoubtedly pure & unique for wedding photography.
Every capture of your Wedding Photography will have a story to tell..
These are Some of Goa's Best Wedding Photography Locations that you can have your  Wedding, Pre-wedding and Post-wedding Photo shoots. Similarly many more locations  in Goa that gives you a perfect Photo are below .
4) Forts & Historical Palaces
History runs deep undeniably the Portuguese have left Goa with a rich  legacy of Forts & Palaces. As can be seen in North Goa , Fort Aguada , Tiracol , Chapora Fort are some of the beautiful places for wedding photography. Identically in the south Royal palaces such as the Braganza House at Chandor. These wedding photo shoot locations in any case will add depth and class to your wedding photographs.
5)  Resorts & Villa's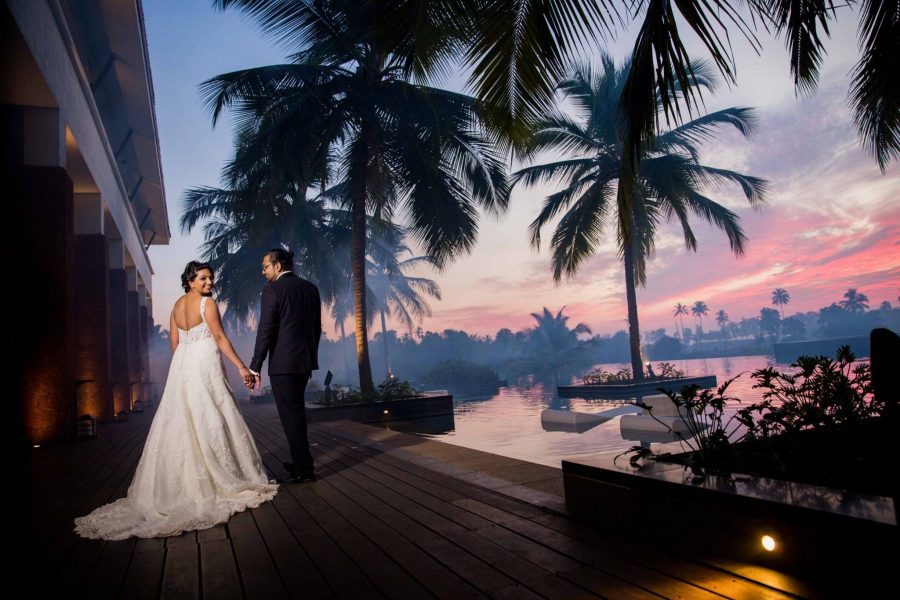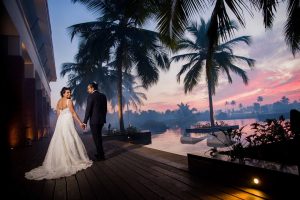 Goa explicitly hosts a number of five & seven star resorts with its own uniqueness.By and large these resorts are build in line with the mix of Indian & Portuguese architecture.
These are divine and perfect for wedding photography. Couples can choose from the elite waterfronts to the marvelous creations, Grand Hyatt Bambolim Goa is one such beautiful place for your wedding shoot. Radisson blu is also another wedding favourite in the south. Taj in the north is to be added to the favourites as well.
The ambiance & colors at these locations add in a different combination of light strokes filled in the air. the Aura and charm of the resorts in Goa will simply add beauty to your clicks. Photo Credits : Grand Hyatt Goa